Transportation Domestic flights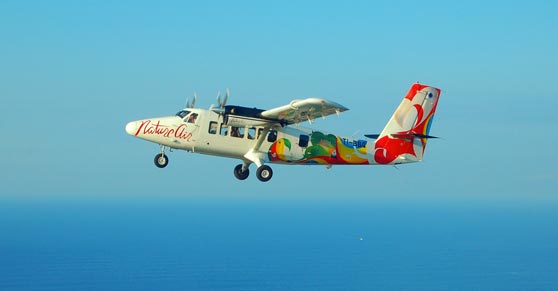 A good option to travel in Costa Rica is the regular scheduled domestic flights or the charter flights, which represent a considerable saving of travel time.
There are two domestic airlines: SANSA and Nature Air. Both offer regular flights to most important tourist destinations and to Bocas del Toro in Panama. Nature Air also provides flights to the City of Granada in Nicaragua during high season, departing from San Jose and Liberia International Airport. SANSA hub is located at the Juan Santamaria International Airport, while Nature Air is based at the Tobias Bolanos Airport in Pavas, just few minutes away from central San Jose.
SANSA has six Cessna Grand Caravan 208B aircrafts for up to 12 passengers and the daily flights San Jose - Liberia – San Jose are operated on their ATR 42-300 with 46 seats and more capacity for luggage.
Nature Air counts with five Twin Otter Vistaliner. These roomy 19-passenger planes are climate controlled and known as the limousine of sight seeing aircrafts. Also provides two Islander aircrafts with a maximum capacity of six passengers.
The maximum baggage limit is 25 pounds per person. Excess baggage will be charged extra and be transported depending on the weight capacity of the airplane. From San Jose there are flights to the following destinations: Barra del Colorado, Bocas del Toro (Panama), Coto 47, Drake Bay, Granada (Nicaragua) by Nature Air, Golfito, Liberia, Limon, Nosara, Palmar Sur, Puerto Jimenez, Punta Islita, Quepos, Samara, Tamarindo, Tambor, Tortuguero.
Flights between destinations (mostly during high season and are subject to change):
Quepos – Palmar Sur
Puerto Jimenez – Drake Bay
Tamarindo – Liberia – Granada
Arenal – Liberia – Granada
Arenal – Liberia – Tamarindo
Bocas del Toro – Limon
Liberia – Tamarindo – Punta Islita
Transportation Rental Car
To explore Costa Rica in the most adventurous way and with freedom, an excellent alternative is to rent a car. Among the categories to choose from are:
Car Type and Category
Brands Available
Description
Sedán Subcompact
Toyota Yaris or similar
Sedan, 1500 cc, 4 doors, A/C, Power Steering, 5 persons, CD player.
Sedán Compact*
Mitsubishi Lancer or similar
Sedan, 1600 cc, 4 doors, A/C, Power Steering, 5 persons, CD player.
SUV Subcompact
Daihatsu Terios or similar
4WD, 1300 cc, 5 doors, A/C, Power Steering, 4 persons, CD player.
SUV Compacto
Daihatsu BEGO or similar
4WD, 1500 cc, 5 doors, A/C, Power Steering, 4 persons, CD player.
SUV Intermediate
Hyundai Tucson, Toyota Rav4 or similar
4WD, 2000 cc, 5 doors, A/C, Power Steering, 5 persons, CD player.
SUV Standard*
Mitsubishi Montero Sport**, Jeep Liberty or similar
4WD, 3000 cc, 5 doors, A/C, Power Steering, 5 persons, CD player.
SUV Full Size
Mitsubishi Montero GL** or similar
4WD, 3000 cc, 5 doors, A/C, Power Steering, 7 persons, CD player.
MPV Minivan
Mitsubishi L-300 or similar
Minivan, 2500 cc, 4 doors, Frontal A/C, 12 persons, AM/FM Tape.
SUV= Sport Utility Vehicle MPV= Multi Passengers Vehicle
*Available in automatic transmission
**Available in Turbo Diesel Intercooler Engines
Other similar car categories, brands and models can be chosen in manual transmission (stick shift) or automatic transmission at an extra cost.

Conditions and benefits for renting cars:
To be at least 21 years old of age.
To present a valid passport and a current valid driver's license.
To guarantee the car rental a credit card must be presented with a minimum available of US$750 (only with Adobe Rent a Car, other companies may vary among categories) for deposit.
The rates include unlimited mileage for rentals from the first day (apply just with Adobe Rent a Car, other companies require a minimum of three days of rental to apply for it).
A Mobile Phone Program is available with Adobe Rent a Car (Free unlimited local inbound and outbound calls).
Costa Rican Law requires the insurance for Collision, Damage, Waiver (CDW) and Responsibility for damage to third party.
The daily rental rate does not include the deposit, fuel, additional driver, or other insurance options. Delivery and drop off charges might apply.
Costa Rican Law requires the use of safety belts for all those who travel by car. If needed, please request availability of baby seats, coolers and surfboard racks when making the reservation.
Transportation Private ground transportation
This service is provided on modern transportation units including large buses, medium size buses and mini vans. All vehicles are air-conditioned, with microphone, cooler and some with DVD player. The larger units are toilet equipped.
Always take into consideration the following remarks:
Our transportation fleet and ground operations personnel are all interconnected by mobiles and pagers.
Bottled water is included in our private tours and transfers.
Most of our experienced and friendly drivers are bilingual Spanish-English.
Private transfers for FIT's only include the driver; if a tour guide is desired, there will be an additional cost. Listed private transfer rates for individuals are calculated on a maximum of five passengers. Net rates for more than five persons and groups will be quoted upon request.
For private transfers including one or more guided stops, the cost of full day tour guide will be included on the quotation.
There is an additional fee for afternoon and evening transfers lasting more than two hours, departing from the Juan Santamaria airport, from Liberia international airport and from the Central Valley to the different tourist destinations.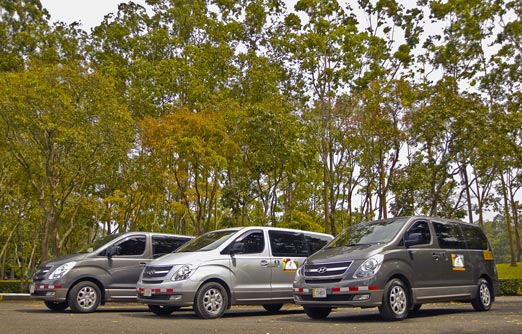 Transportation Shuttle bus
If you wish to travel economical, we suggest the land transfers by shuttle buses, which run daily to the main tourist destinations. The most important are: La Fortuna (Arenal Volcano), Manuel Antonio, Tamarindo, Flamingo, Conchal, Potrero beach, Papagayo, Ocotal, Coco beach, Jaco, Nosara, Samara, Montezuma, Tambor, Rincon de la Vieja, Monteverde, Puerto Viejo (South Caribbean), Siquirres (for clients visiting Tortuguero) and Sarapiqui.
Important notes about this service:
Passengers are allowed to carry just ONE regular size piece of luggage per person and one small hand bag. Extra luggage will be charged at US$12.00 per piece and must be booked in advance.
Surf boards are charged at US$14.00 each (max. 7 feet long) and should be reserved ahead of time and are subject to space
Baby seats are available for free. Please inform when making the reservation.
Pets are not permitted.
Most transfers include one mandatory rest stop and/or a change of shuttle buses. However, a trip will never have more than two rest stops.
Clients will be picked up at most important hotels and lodges on mentioned destinations. If the hotel is not listed, there will be an extra charge.
We advise all passengers to be available for pick-up at least fifteen minutes prior to their assigned time. This is because this service will wait for a maximum of ten minutes past the assigned pick-up time.
All vehicles are air-conditioned and non-smoking. Most drivers only speak Spanish.